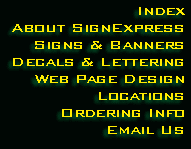 ©1998 SIGNEXPRESS
Thankyou for visiting!
signs@mts.net
Designed & Maintained by:
©1998 Signexpress

SIGNEXPRESS is now offering Internet Consultation. Let our web professionals show
you the most effective ways to gain worldwide exposure for your products and services.
Through extensive knowledge of the internet and world wide web, we can achieve maximum
response for your internet advertising. If you already have a website, links are for sale on this site.
Advertise with SIGNEXPRESS and maximize your company's potential.

INDEX | ABOUT SIGNEXPRESS | SIGNS & BANNERS
DECALS & LETTERING | WEB PAGE DESIGN | LOCATIONS
ORDERING INFO | EMAIL US
©1998 SIGNEXPRESS