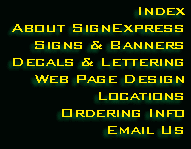 ©1998 SIGNEXPRESS
Thankyou for visiting!
signs@mts.net
Designed & Maintained by:
©1998 Signexpress
SIGNEXPRESS has been providing quality signs at competitive prices for over 8 years. Sign and Computer Technology has changed immensly over the last decade, and SIGNEXPRESS has worked hard to stay on the cutting edge. Our combination of experience, fresh ideas and industry leading technology make SIGNEXPRESS your
clear choice for displaying your message to the masses in the 1990's and beyond!

INDEX | ABOUT SIGNEXPRESS | SIGNS & BANNERS
DECALS & LETTERING | WEB PAGE DESIGN | LOCATIONS
ORDERING INFO | EMAIL US
©1998 SIGNEXPRESS