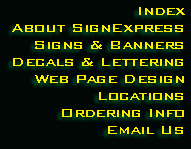 ©1998 SIGNEXPRESS
Thank you for visiting!
signs@mts.net
Designed & Maintained by:
©1998 Signexpress

SIGNEXPRESS uses the Gerber EDGE® to produce durable full colour vinyl decals and graphics. We can supply you with die-cut stickers ideal for product marking to promotions.
As well, SIGNEXPRESS specializes in vehicle decals and graphics, whether for one car, or your entire fleet of service vehicles. Call or E-Mail SIGNEXPRESS for a competitive quote and suggestions from our professional staff.

INDEX | ABOUT SIGNEXPRESS | SIGNS & BANNERS
DECALS & LETTERING | WEB PAGE DESIGN | LOCATIONS
ORDERING INFO | EMAIL US
©1998 SIGNEXPRESS